BARB'S MUSICAL NOTES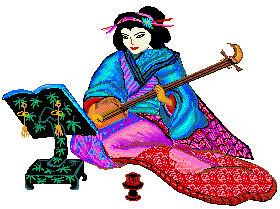 I have been a musician of sorts ever since I was old enough to bang away on a little, blue toy piano that my parents bought me. They must have recognized talent when they saw it because that toy piano was the start of a lifetime love affair with music.

I learned to play the trombone in 4th grade and became interested in guitar as a teenager. During my teen years, I belonged to a variety of female folk-singing groups. In high school, I was active in band, chorus and my church choir.

After graduating from Mansfield State University with a degree in Music Education, I taught elementary school music for a few years and then took time off to start a family. After many years, I returned to college and got a degree in Therapeutic Recreation.

I presently use my music in a geriatric setting. I was a choir director for 5 years, sang in a community choir, occasionally accompany performing soloists and have done accompaniments and sound effects for musicals and plays.

Having been a music major("soupie"), I learned to play a variety of instruments. I use the guitar and recorder at work, especially when doing individual resident visits and impromptu singing groups. My husband recently had my violin refinished and restrung, so I've been fiddling along with bluegrass tapes and am going through a mild "screeching" stage again! I also enjoyed playing the trumpet, though my first love of the french horn did not prove to be fruitful: I never had the opportunity to play that beautiful instrument.

Barb(piano) and Janice at our Gettysburg College Concert debut!


Musician's Prayer

God, please bless my music
That it might glorify Your name,
May using it to serve You
Always be my aim.
Let it be a witness
To Your majesty and love,
And remind us that You're watching
From Your throne above.
Oh Lord, I ask for guidance
In everything I do,
And pray You'll make my music
An instrument for You.

I've never known a musician who regretted being one. Whatever deceptions life may have in store for you, music itself is not going to let you down.

Virgil Thomson

When a man of insight appreciates the music of a lyre, calligraphy, poetry, or painting, he nurtures his mind with them; but a worldly man delights only in their physical appeals. When a noble-minded man appreciates mountains, rivers, clouds, or other natural objects, he develops his wisdom with them; but a vulgar man finds pleasure only in their apparent splendor. So we know that things have no fixed attribute. Whether they are noble or ignoble depends upon one's understanding.

Zen Buddhist
On How To Play

Accented notes: like one shoe fits and the other is a little small.
A passage in Prokofiev: like two bugs fighting.
Crescendo: like a million devils.
Diminuendo: with expression-not like when you are turning your radio down because neighbors are complaining.
Sforzando: four old women in the audience must have heart attacks.
Tremolo: like a hag who has false teeth and she is chewing caramels.
A Brahms variation: like crawling lousies.
Softly: whisper like a lady moving in a silk dress.
Mstislav Rostropovich

In music one must think with the heart and feel with the brain. Yo_Yo Ma

A symphony must be like the world. It must contain everything. Gustav Mahler

Lean your body forward slightly to support the guitar against your chest, for the poetry of the music should resound in your heart. Andres Segovia

Music is your own experience-your thoughts, your wisdom. If you don't live it, it won't come out of your horn. Charlie Parker

Sometimes you have to play a long time to be able to play like yourself. Miles Davis

Playing the violin must be like making love-all or nothing. Isaac Stern

TEN COMMANDMENTS OF WORSHIP
1. Thou shalt not come to service late, nor for the amen refuse to wait.
2. When speaks the organ's sweet refrain, the noisy tongue thou shalt restrain.
3. But when the hymns are sounded out, thou shalt lift thy voice and shout.
4. And when the anthem thou shalt hear, thy sticky voice thou shalt not clear.
5. The endmost seat thou shalt leave free, for more must share the pew with thee.
6. The offering plate thou shalt not fear, but give thine uttermost with cheer.
7. Thou shalt the minister give heed, nor blame him when thou are disagreed.
8. Unto they neighbor thou shalt bend, and, if a stranger, make a friend.
9. Thou shalt in every way be compassionate, kind, considerate and of tender mind.
10. And so, by all the Spirit's grace, thou shalt find God within this place.

After reading the below "aside" that has been making the "Forward" rounds throughout the e-mail system, I can truly say that I am proud to be a creative and thoroughly unpredictable musician. Sing praises for "Unfinished" Business! Thank you, Schubert!

A consultant was given a ticket for a performance of Schubert's "Unfinished Symphony." After attending the concert, the consultant sent the following memorandum to the conductor suggesting a number of improvements...
MEMORANDUM
1. For a considerable period, the oboe players had nothing to do. Their number should be reduced, and their work spread over the whole orchestra, thus avoiding peaks of inactivity.
2. All twelve violins were playing identical notes. This seems unnecessary duplication, and the staff in this section should be drastically cut. If a large volume of sound is required, this could be obtained through use of an amplifier.
3. Much effort was involved in playing the 16th notes. This seems an excessive refinement, and it is recommended that all notes should be rounded up to the nearest 8th note. If this were done, it would be possible to use paraprofessionals instead of experienced musicians.
4. No useful purpose is served by repeating with horns the passage that has already been handled by the strings. If all such redundant passages were eliminated, the concert could be reduced from two hours to twenty minutes.
5. This symphony has two movements. If Schubert did not achieve his musical goals by the end of the first movement, then he should have stopped there. The second movement is unnecessary and should be cut.

In light of the above, one can only conclude that had Schubert given attention to these matters, his symphony would probably not have been finished by now.

Praise the Lord! Praise God in his sanctuary; praise him in his mighty heavens.
Praise him for his acts of power; praise him for his surpassing greatness.
Praise him with the sounding of the trumpet, praise him with harp and lyre, praise him with tambourine and dancing, praise him with strings and flute, praise him with the clash of cymbals, praise him with resounding cymbals.
Let everything that has breath praise the Lord.
Praise the Lord!

Psalm 150
The hills are alive with the sound of music. . .
"After silence, that which comes nearest to expressing the inexpressible is music."
-Aldous Huxley

Southern PA & Northern MD Happenings
Links Page
Barb's Updates
Homespun Memories
More Memories
Barb's Recipes
Flower Recipes
Drink Recipes
Shavings & Smatterings
Spoutwood Faerie Festival Page
Herbal Happenings
Spirit Page

This page has been graced

times since mid-summer 2000.
Art is a collaboration between God and the artist, and the less the artist does the better
. . .Andre Gide
Please visit these lovely sites!
The music of the birds, the bees, the waves, the trees,
the shells and the streams sing ever in the heart of a child.
Music is my essence. . .indeed, my very soul